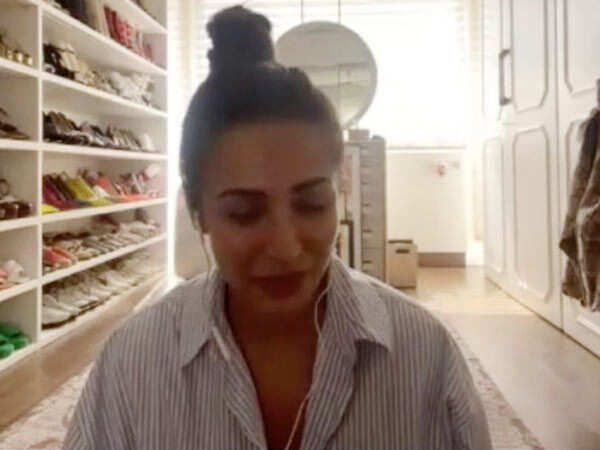 Malaika Arora has always received praise and recognition for her way of dressing up and styling. She always steals the limelight with her different and glamorous fashion. But do you know that Malaika's closet is 'as big as an average person's bedroom'?
Columnist Namrata Zakaria conducted a podcast with Malaika Arora, which was recorded in the actor's closet because it was the 'quietest room'. Namrata shared a picture of Malaika on Instagram. In the picture, Malaika can be seen sitting on the floor of her closet with a wardrobe apparently on one side and a shoe rack on the other.
Sharing the picture, Namrata wrote, "Why am I posting a picture of Malaika Arora sitting in her shoe closet? 1. Because it's as big as an average person's bedroom. 2. This is the quietest room in her house where she sat and recorded for my podcast with me. 3. "What's a girl without her shoes?" she asks. 4. All of the above." Malaika also reposted the post on her Instagram Story with a red heart and wrote, "My closet."
Malaika last appeared as the judge of a dance reality show, India's Best Dancer, the final of which took place during the month's start. She also owns a yoga studio. The actor is currently spending time with her son Arhaan Khan, who returned to India from abroad, where he's pursuing his higher studies. Malaika has also been dating actor Arjun Kapoor for quite a few years now.
Subscribe to our YouTube channel
.fbsubscribe_wrapper > span { text-align: left;}.fbsubscribe_wrapper.ytsubscribe_wrapper > div { background-position: center left 21px !important; }.ytsubscribe_wrapper{position: relative; display: flex; vertical-align: baseline; height: 24px; margin: 2% 0 0 0;} .ytsubscribe_wrapper > span { margin-right: 2%; color: #000; font-size: 15px; } .ytsubscribe_wrapper > div{background: rgba(255,255,255,.9) url(/images/2016/ajax-loader.gif) no-repeat center left !important; background-size: 21px auto !important;min-width: 100px;} .ytsubscribe_wrapper a { display: inline-block; position: absolute; width: 100%; height: 100%; z-index: 1; } .colmb h2.recommendeCTN { margin-bottom: 1px; width: 65%; float: left; font-family: proxima-semibold,roboto,arial; font-size: 13px; line-height: 2.6em; margin-top: 11px;
} .colmb h2.recommendeCTN { margin-bottom: 1px; width: 65%; float: left; font-family: proxima-semibold,roboto,arial; font-size: 15px; line-height: 2.6em; margin-top: 11px;
}
.colmb { background-image: url(//static.clmbtech.com/ctn/commons/images/colombia-icon-gray.png) !important; background-position: right 17px; background-repeat: no-repeat; background-size: 18px 16px; overflow: hidden; } .colmb:hover { background-image: url(//static.clmbtech.com/ctn/commons/images/colombia_red_small.png) !important;
}
.colmb:before { content: "By Colombia"; float: right; padding-right: 25px; font: normal 14px/2.2em 'proxima-semibold',roboto,arial; text-align: right; color: #383838; font-weight: 500; margin-top: 14px;
} .colmb:after{content:none}
Recommended for You