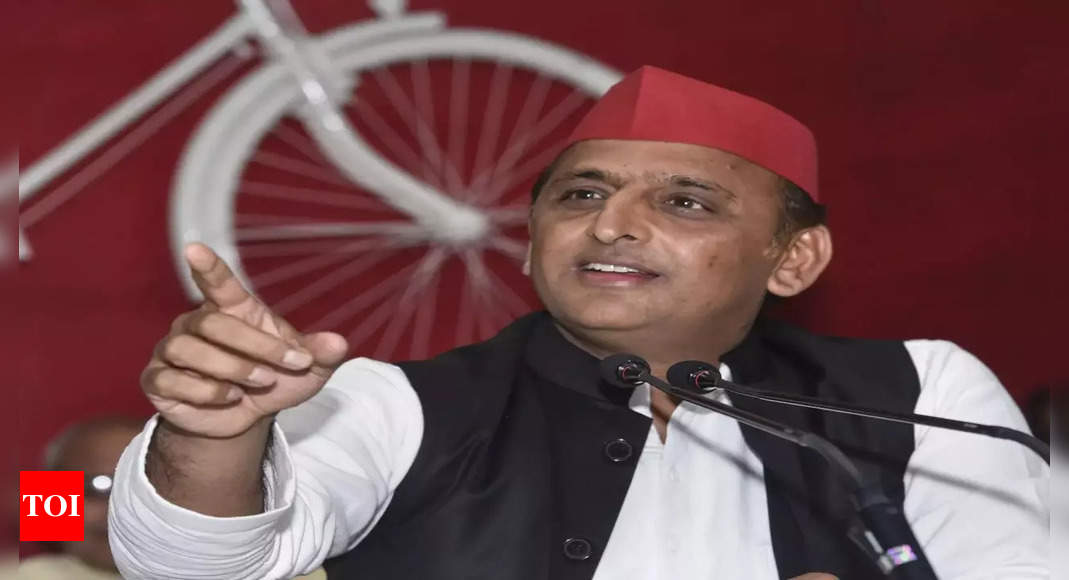 LUCKNOW: Even as Prime Minister Narendra Modi laid the foundation stone of the Jewar airport in western Uttar Pradesh on Thursday, Samajwadi Party (SP) chief Akhilesh Yadav claimed that a proposal to set up an airport at Firozabad, initiated when he was the chief minister, was turned down by the BJP government at the Centre.
Yadav, whose party is the primary opponent of the BJP in the upcoming state polls, also hurled another jibe at the BJP saying what was being built today, would be sold off tomorrow.
As the BJP makes a bid to capture power again in the state, Prime Minister Modi and state chief minister Yogi Adityanath have showcased several mega development projects across the state. However, this has also attracted criticism from the Yadav, whose party SP is seen as BJP's main rival.
In one of his tweets, Yadav said that it the SP government's proposal for an airport in Firozabad had got nod from the BJP, then the city known for bangle production would also joined the jewel (Jewar in Hindi) at this moment. Yadav claimed that only SP could provide development to Uttar Pradesh.
अगर सपा सरकार के समय फ़िरोज़ाबाद में प्रस्तावित एयरपोर्ट बनने की अनुमति केंद्र की भाजपा सरकार ने रोकी न होती तो इस… https://t.co/akgeLBgEVC

— Akhilesh Yadav (@yadavakhilesh) 1637825292000
In another tweet Yadav taunted the ruling BJP on privatisation claiming that whatever was being started today, would be sold off later.
आज जिसका 'शिलान्यास' होगाकल उसको बेचने का प्रयास होगासोच भेदभाव ~ काम बंटाधार!यही नारा आज का नहीं चाहिए भाजपा https://t.co/JmsgleB5MN

— Akhilesh Yadav (@yadavakhilesh) 1637837786000
Continuing his attack, Yadav also took a jibe at the BJP's "double engine" growth claim. Yadav said that no matter how many engines such people may claim, the anger of the people had forced their planes to land. The BJP refers to the Modi government at the Centre and Yogi Adityanath government in the state as twin engines of growth.
जनाक्रोश ने जिनका जहाज ज़मीन पर उतार दिया है और जिनकी उड़ान ही रद्द कर दी है, अब वो उस जहाज़ में चाहे जितने इंजन हो… https://t.co/cqwMrppUuL

— Akhilesh Yadav (@yadavakhilesh) 1637842235000
The BJP has been showcasing mega projects in its bid to capture. However, Yadav has been trying to claim that a lot of work had been done by his government that preceded BJP rule.